Barrett-Jackson 50th Anniversary
Barrett-Jackson, the World's Greatest Collector Car auction, is setting the stage in Scottsdale with a number of celebrity-owned vehicles crossing the block during the auction company's 50th-anniversary celebration at WestWorld of Scottsdale, January 22-30.
I had the opportunity to join Craig Jackson in Phoenix on January 8th while his team was preparing for this year's Scottsdale auction. Housed under the largest tent set up in the world, the show consumes 1,000,000 sq feet. As expected, this year's collection is as impressive as ever.
There are some great cars going across the block this year, including one of the cars from my youth that influenced my passion for cars as a teen.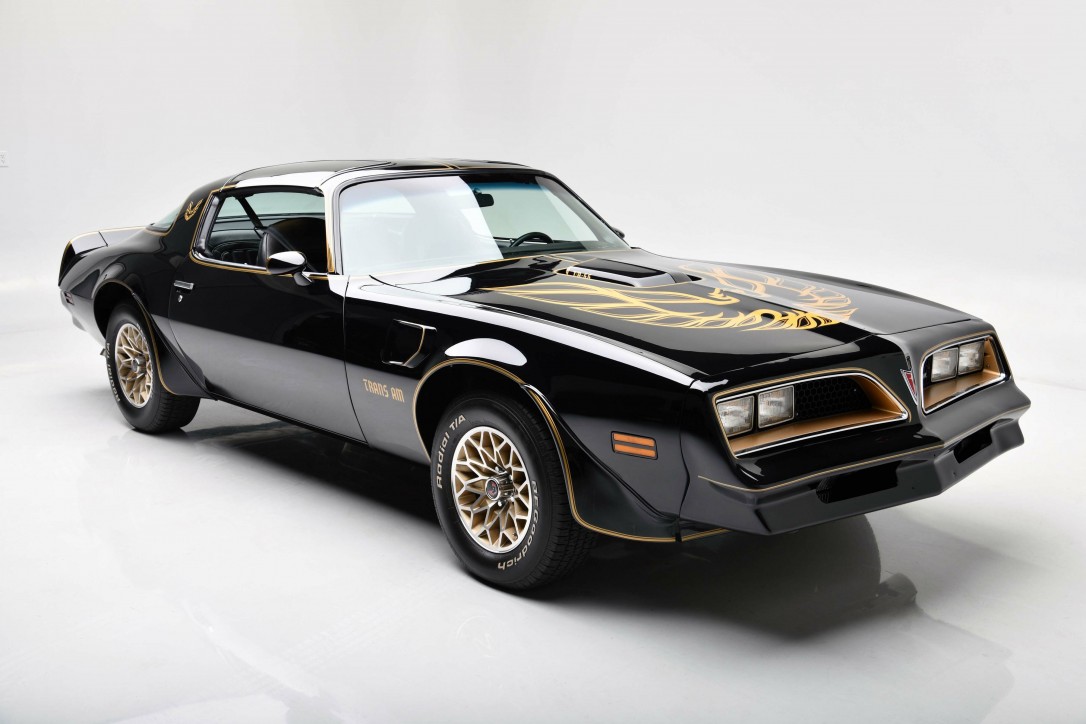 Made popular in the iconic movie "Smokey and the Bandit," this Pontiac Firebird Trans Am SE (Lot #1421) is the only one owned by the late Hollywood legend and star of the movie, Burt Reynolds.
Top Cars at this year's Barrett-Jackson 50th Anniversary Auction
"A vehicle that belonged to a high profile celebrity, or starred in a hit movie, is incredibly enticing for collectors," said Craig Jackson, chairman and CEO of Barrett-Jackson. "Nothing could be truer of the only 1977 Trans Am owned by Burt Reynolds. The muscle car is an extension of his movie character and became a part of his identity as an actor."
Burt Reynold's 1977 Pontiac Firebird Trans Am SE (Lot #1421) is a Starlight Black-and-Gold 1977 Trans Am Special Edition and was a promotional vehicle gifted to Reynolds for his pivotal role in the car's massive success. Well-equipped, it is optioned with air conditioning, a 180hp V8 engine, M40 automatic transmission and twin-hatch T-roof. The Trans Am includes a Florida title signed by Reynolds, engraved dedication plate on the driver's door and an autographed copy of Burt Reynolds' "But Enough About Me" autobiography. Click here for Barrett-Jackson's "First Look" at Lot #1421.
The 1968 Chevrolet Chevelle Custom Coupe (Lot #1338) was professionally built by Velocity Restorations and is offered from the personal collection of actor and comedian, David Spade. It is powered by a LS3 V8 engine displacing 6.2 liters and mated to a 4L70E automatic transmission. Click here for Barrett-Jackson's "First Look" at David Spade's 1968 Chevelle.
Lot #1366 is a 1966 Chevrolet Nova SS designed and owned by NASCAR Hall of Famer Rusty Wallace. Professionally built by Ambition Road, it is powered by a 6.2-liter Chevy LS3 V8 engine mated to a TREMEC 6-speed manual transmission. Painted in a Champagne color formulated by Chip Foose, the interior is finished in a supple Amber leather and features a Pioneer stereo, Vintage Air heat and air conditioning and Dakota Digital gauges.
The 1968 Chevrolet Corvette 427 convertible (Lot #1420) was owned by the legendary astronaut, Alan Shepard, who made history as the first American in outer space. One of 664 Corvettes made in this combination in 1968, the sportscar 'has all the right stuff' with a L89 Tri-Power-equipped V8 engine package mated to a 4-speed manual transmission. It was displayed in the Corvette Museum of America, as well as the NASA U.S. Space Walk of Fame Museum in Titusville, Florida. Click here for Barrett-Jackson's "First Look" at this 1968 Corvette.
"There's something exciting about owning a vehicle that belonged to a favorite celebrity or icon who influenced your life in some way," said Steve Davis, president of Barrett-Jackson. "From a legendary astronaut to film legends and sports icons, our Scottsdale docket will be infused with exciting vehicles with real celebrity provenance."
Boasting roles in the "Fast and Furious" Hollywood blockbuster series, three vehicles crossing the block from the iconic movie franchise as part of the "Fast Saga" Movie Car Collection. These vehicles include a 1956 Chevrolet Fleetline (Lot #1263) and 1956 Ford Fairlane (Lot #1264) which were featured in the opening scene of the eighth movie. A 1987 Buick Regal Grand National (Lot #1265 ) is one of two remaining movie cars after production and were driven by actor Vin Diesel in the fourth film. Classified as "The Wheelie Car" by the movie production team, it was fitted with a full roll cage and pulley system designed so it could pop a back wheelie when an 18-wheeler hit it in the scene.
Lot #1429 is a 1999 Shelby Series 1 owned by Danny "The Count" Koker of Count's Kustoms and The History Channel TV series "Counting Cars." One of 249 produced and the first of seven available in black, this Shelby has been kept in a temperature-controlled warehouse and has only 1,216 actual miles. Featuring a carbon-fiber body with an aluminum chassis, this car comes equipped with an Oldsmobile Aurora engine producing 350hp and backed by a 6-speed manual transmission.
Owned and restored by rockabilly artist Brian Setzer of Stray Cats, Lot #1012 is a 1932 Ford Custom Coupe. This all-original Henry Ford steel hot rod underwent a custom restoration and features a black exterior with a gray and red interior. It is powered by a 414ci 1958 Cadillac V8 that has been bored, stroked and balanced, and is paired with an automatic transmission.
Those interested in being a part of the 50th-anniversary celebration and registering to bid for the 2022 Scottsdale Auction may do so here.
To purchase tickets to the Barrett-Jackson 50th Anniversary aucition event, click here, and VIP packages are available here. Join Barrett-Jackson's online conversation on Facebook, Twitter, Instagram and YouTube #BarrettJackson